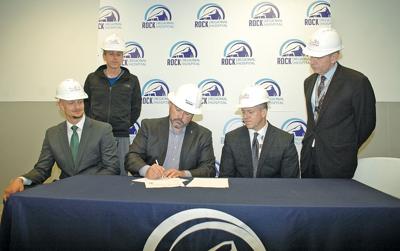 Executives from Rock Medical Assets and Via Christi Health gather for the formal signing ceremony finalizing Via Christi's stake in Rock Regional Hospital. From left, Jason Eitutis, CEO, Rock Regional Hospital; Dr. Mark Niederee, Wichita Surgical Specialists; Clem Borkowski, managing director, Rock Regional Assets; Kevin Strecker, regional hospital president, Via Christi; and Mike Mullins, CEO, Ascension's Via Christi Health.
Via Christi Heath is expanding its Derby medical services in a major way.
Ascension's Via Christi Health has bought an interest share in the Rock Regional Hospital, the 31-bed acute care center now under construction on a 15-acre site at the northwest corner of Rock Road and Patriot Avenue.
The agreement was formally finalized during a signing ceremony on Oct. 26 at the hospital.
Via Christi now has a 25 percent ownership interest in Rock Medical Assets, an entity comprised of local investors, real estate developers and private capital firms.
No price was disclosed on the transaction.
Via Christi officials emphasize the main aspect of the new relationship is that the hospital becomes open to "covered lives" in their network. That's especially important for employees at nearby Spirit AeroSystems, who are in the Via Christi system.
"The hospital and ambulatory surgical center will become part of the Via Christi clinically integrated network, which is important to employers such as Spirit AeroSystems which has chosen us as its preferred network provider of care for its Wichita-area employees. many of whom live in and around Derby," said Michael Mullins, CEO for Via Christi Health and senior vice president of Ascension Healthcare.
Numerous Spirit workers in Derby
"From our perspective, having a hospital in Derby is important," Mullins said.
About 1,000 Spirit employees live in Derby, according to company officials.
The name of the hospital remains the same, but Via Christi does obtain a seat on its board, giving it some influence into its operations.
Construction of the 89,000-square-foot Rock Regional Hospital began in 2017.
The $41 million multi-speciality hospital will have 24 medical surgical suites, seven intensive care beds, four operating rooms, two procedure rooms, and two heart catheterization labs.
The relationship was not planned from the origins of the hospital, but it did evolve that way as time went on and the two parties agreed that it would help each other and the patients.
There was much effort into working out the agreement.
"It's a lot of work that got us to this point," he said.
One of the doctors who will be associated with the hospital, Dr. Mark Niederee of Wichita Surgical Specialists, said Rock Regional will be an asset to the city and the surrounding area in a number of ways.
"This is a local community hospital that supports local construction, local workers and local taxes," he said.
On a professional level, he's excited about working there.
Employment event planned for December
"This is more of a physician-directed hospital," he said. "It's a good deal."
Niederee will not be employed by the hospital, but operate within much like a small business owner would.
Clem Borkowski, managing director of Rock Regional Assets, is glad to have Niederee associated with Rock Regional, saying a special emphasis was placed on making it a smooth operation for the physicians.
That will benefit patients, too, he said, not only in Derby, but the surrounding communities, including the area all the way south to the state line.
Currently, the closest full-service hospital for area residents is Via Christi Hospital St. Joseph, which is about 12 miles north of Derby.
Likewise, Jason Eitutis, Rock Regional's CEO, said the new arrangement brings benefits.
"This partnership with Via Christi will bring collaboration with the largest clinically integrated network in Kansas," he said.
Eitutis said the hospital's construction is progressing well and he's looking at a "soft opening" in February.
In another development, the hospital is planning to hold a hiring event on Dec. 12 as it aims to fill up to 175 positions.
Candor Healthcare, a Dallas-based healthcare management firm, in collaboration with local physicians, will manage the day-to-day operations of Rock Regional and Rock Surgery Center, an ambulatory surgery center.
The medical complex is being developed by CBC Real Estate and PartnersHealth.